Proof Testing of Safety Instrumented Systems
Optimize proof testing with smart technologies and services for sustained safety and availability
Proof testing Safety Instrumented Systems (SIS) has become a key challenge for the worldwide chemical industry. Such systems are increasingly commonplace for compliance or performance purposes and require regular testing to ensure alignment to standards and processes. Faced with tough competition and reduced margins, the problem for plant operators becomes how to optimize testing methods to ensure costly downtime is minimized, and to do so with the benefit of full, in-depth diagnostic coverage.
How we can help
Endress+Hauser offers intelligent Heartbeat Technology to ensure optimal SIS proof testing, as well as rigorous SIS proof testing services, enabling sustained plant safety with minimal process interruption for the chemical industry:
Permanent process and device diagnostics with a diagnostic coverage of up to 98%

Standardized diagnostic messages with precise instructions

Verification without process interruption via the push of a button

Automatically generated and unambiguous verification protocols

Safety Integrity Level (SIL) verification through a wizard-assisted proof test procedure that unveils dangerous undetected failures
Increase plant safety and availability with minimal effort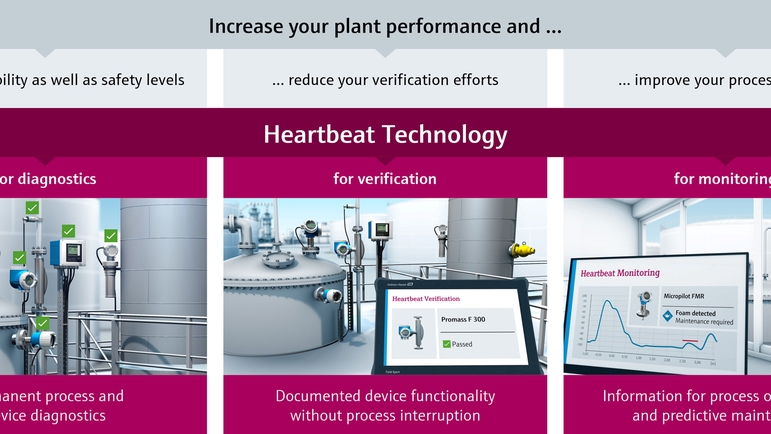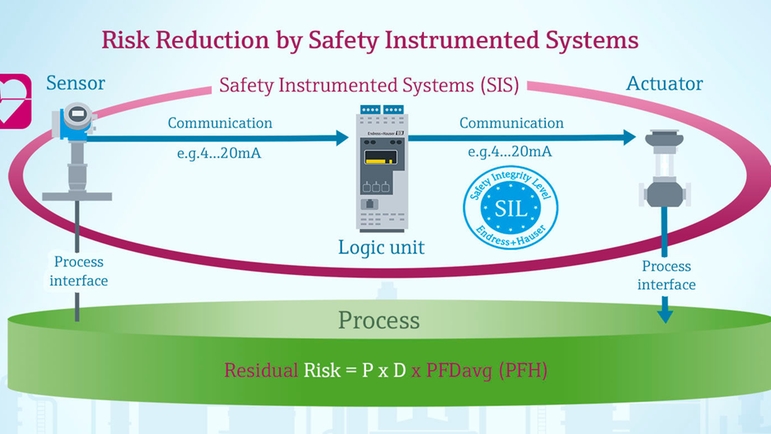 Előnyök
As a chemical plant operator, you carry a special responsibility with regards to safety. Heartbeat Technology enables you to optimize proof testing of your SIS, maintaining state-of-the-art plant safety without compromising availability – all with minimal effort. Integrated in a wide range of our instruments, this technology delivers concise, standardized diagnostic notifications and monitoring data that allow you to service and maintain your systems precisely when its needed.
31

countries with trained safety ambassadors ready to discuss your safety concerns

100+

SIL-certified devices to provide the best solution for your application

10

million devices installed in safety-related applications over the past 65 years
Egyszerű termékek

Könnyen kiválasztható, telepíthető és kezelhető
Műszaki kiválóság
Egyszerűség
Alaptermékek

Megbízható, robusztus és kevés karbantartást igényel
Műszaki kiválóság
Egyszerűség
Felső kategóriás termékek

Rendkívül funkcionális és kényelmes
Műszaki kiválóság
Egyszerűség
Speciális termékek

Nagy igénybevétellel járó alkalmazásokhoz tervezve
Műszaki kiválóság
Egyszerűség
FLEX választék
Műszaki kiválóság
Egyszerűség

Fundamental választék

Eleget tesz az Ön alapvető mérési igényeinek

Műszaki kiválóság

Egyszerűség

Lean választék

Könnyen kezeli az Ön alapvető folyamatait

Műszaki kiválóság

Egyszerűség

Extended választék

Innovatív technológiákkal optimalizálja az Ön folyamatait

Műszaki kiválóság

Egyszerűség

Xpert választék

Megoldás az Ön legnagyobb kihívást jelentő alkalmazásaihoz

Műszaki kiválóság

Egyszerűség
Biztonság

Storage and transport of chemicals, safely and efficiently

Reduce risk to health, assets and environment without compromising availability and efficiency.

Olvassa el a teljes történetet

Biztonság

Process safety in the chemical industry, strong availability

Sustain productivity and efficiency with compliant process safety driven by reliable measurements.

Olvassa el a teljes történetet