Előnyök egy pillanat alatt
Ideal support for oxygen monitoring and control with the Oxymax COS61D high-performance digital oxygen sensor, which provides you with fast, accurate and drift-free measurements. Benefit from the long-term stability and performance of the sensor in all aeration processes (SBR, Anamox, etc.). Furthermore, the high flexibility of the Liquiline platform makes the measuring point future-proof for your needs.


Digital Memosens Technology

Thanks to Memosens digital technology you can benefit from maximum process and data integrity and simple lab calibration.

Ready for automation

This measuring point can be used as a stand-alone system to control your aeration or can be integrated in your PLC with its extended communication protocols.

Flexibility

The modular fitting system allows various types of fixing, in open basins or channels. It gives easy access to the sensor for commissioning and maintenance.
Csomag részletei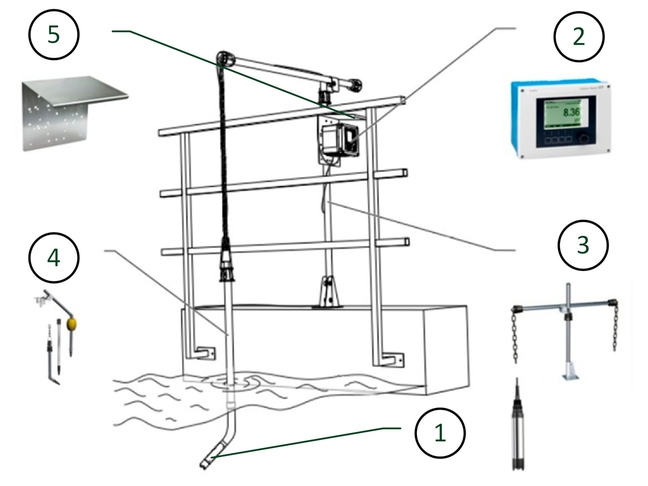 Alkatrészek és előkonfigurációk
Az alkatrészek egymással való kompatibilitásának biztosítása érdekében bizonyos rögzítések szükségesek. A nyitott paraméterek az egyéni konfigurálás szabadságát biztosítják.

Az alkatrészek a kosárban található csomagon belül konfigurálhatók

1

Digital oxygen sensor
Oxymax COS61D

Alkalmazás/mérési tartomány:

2

1-/2-channel transmitter
Liquiline CM442

3

Modular holder system
Flexdip CYH112

4

Immersion assembly
Flexdip CYA112


Érzékelő csatlakozási szög:

5

Eső védő fedél CYY101

Rozsdamentes acél 1.4301, 320x300x270mm