Water quality monitoring with SWAS, efficient and reliable
Protect your water-steam circuit by reducing scaling and corrosion risks
Water quality monitoring within power plants is an essential activity both in maintaining operational efficiency and minimizing downtime caused by corrosion and leakages. Constant contact with water and steam raises the risk of corrosion and scaling on all metal surfaces. With the right instrumentation for water quality measurement and analysis such risks can be offset, and costly repairs avoided.
How we can help
Providing all the necessary measuring signals for process control, the Endress+Hauser Steam and Water Analysis System (SWAS) offers a standardized solution for the convenient sampling and analysis of water within power plants, reducing downtime and increasing plant efficiency. Modular, scalable and easy to retrofit, plus suitable for use with Memosens digital technology e.g. for easy calibration, SWAS provides reliable measurement, user friendly maintenance and minimized downtime.
Smart analysis solutions to prevent corrosion and scaling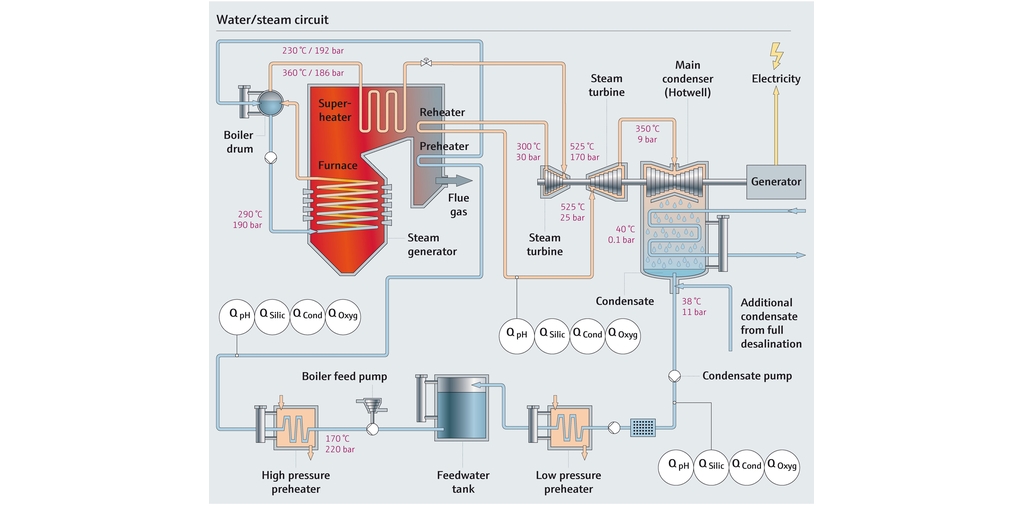 Előnyök
We believe in smart instrumentation that saves you from expensive repairs and unnecessary downtime. The SWAS panels are designed with best-in-class instrumentation to ensure the integrity of your water steam circuit at all times. All panels are easy to install, to commission, and to operate and can be combined as desired thanks to their modular design.
50 %

increased process uptime thanks to digital Memosens instruments installed on the panels

$ 3,250

additional savings every 26 min in a typical 500MW combined cycle plant using degas conductivity analyzers

50%

time savings when you integrate the SWAS panel into the process control system thanks to Liquiline transmitters
Egyszerű termékek

Könnyen kiválasztható, telepíthető és kezelhető
Műszaki kiválóság
Egyszerűség
Alaptermékek

Megbízható, robusztus és kevés karbantartást igényel
Műszaki kiválóság
Egyszerűség
Felső kategóriás termékek

Rendkívül funkcionális és kényelmes
Műszaki kiválóság
Egyszerűség
Speciális termékek

Nagy igénybevétellel járó alkalmazásokhoz tervezve
Műszaki kiválóság
Egyszerűség
FLEX választék
Műszaki kiválóság
Egyszerűség

Fundamental választék

Eleget tesz az Ön alapvető mérési igényeinek

Műszaki kiválóság

Egyszerűség

Lean választék

Könnyen kezeli az Ön alapvető folyamatait

Műszaki kiválóság

Egyszerűség

Extended választék

Innovatív technológiákkal optimalizálja az Ön folyamatait

Műszaki kiválóság

Egyszerűség

Xpert választék

Megoldás az Ön legnagyobb kihívást jelentő alkalmazásaihoz

Műszaki kiválóság

Egyszerűség
Hatékonyság

Optimized level measurement in the water-steam circuit

Takes little steam to carry a large amount of energy; takes little water to damage the turbine. Learn how you can optimize the life-cycle costs of your water/ steam circuit.

Olvassa el a teljes történetet