Sample preparation
Liquiline System CAT860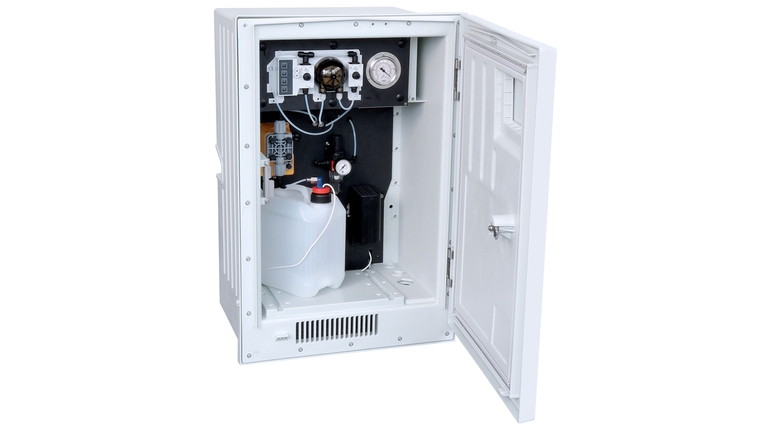 Robust in-situ filtration system for sampling from inlets of wastewater treatment plants
Liquiline System CAT860 provides clear, bacteria-free samples directly from the inlet of municipal and industrial wastewater treatment plants. Its ceramic filter is suitable even for applications with high loads of fat or fibers. Easy cleaning of the special membrane surface and tool-free maintenance reduce your operating costs. The Memosens technology simplifies commissioning and supports predictive maintenance. CAT860 and the versatile Flexdip holder facilitate the adaption to your process.
Gyors kiválasztás
Válasszon a javasolt lehetőségek közül
Egyedi konfiguráció
Folytassa a kiválasztást az elérhető lehetőségek közül
Előnyök

Fast commissioning and plug & play thanks to Memosens technology and user-friendly Liquiline operating concept

Cost-effective through tool-free maintenance and easy replacement of filter elements

Advanced diagnostics with remote access for increased...
Alkalmazási terület

Liquiline System CAT860 is designed for municipal and industrial wastewater plants:

Inlet sampling points

Aeration basins
Dokumentumok / Kézikönyvek / Szoftver
Tartozékok / alkatrészek
Nr

241

Order code

71326150

Kit CAT820/860: 1 year of maintenance

Nr

241

Order code

71229924

Kit CAT820/860: 3 years of maintenance

Nr

206

Order code

71241442

Kit CAT820/860: 10 x connector hose pump

Nr

244

Order code

71241492

Kit CAT820/860: filter complete 0,1um

Consists of cermaic filter candle 0,1um and filter holder

Nr

244

Order code

71222181

Kit CAT820/860: filter candle 0,1um

Nr

244

Order code

71374136

Kit CAT820/860: filter complete 0,4um

Consists of cermaic filter candle 0,4um and filter holder

Nr

244

Order code

71383467

Kit CAT820/860: filter candle 0,4um

Kit CAT820/860: filter holder PVC

cleaner CY820

Cleaning solution for hoses and filter Contains dangerous goods

Liquiline System CAC800

Sample hoses for Liquiline System with different lengths

Nr

230

Order code

71218568

Kit CAT860: manometer complete

Nr

231

Order code

71229927

Kit CAT860: door insulated w/o window

Nr

235

Order code

71222224

Kit CAT860 pressure reducer complete

Nr

209

Order code

71222206

Kit CAT8xx: filter O-ring set (20 x)

Nr

213

Order code

71222214

Kit CAT8xx: 10 x hose connector 90o

Nr

214

Order code

71222216

Kit CAT8xx: 10 x hose connector G1/4"

Nr

219

Order code

71222222

Kit CAT8xx: PTFE hose transparent 5m

Nr

226

Order code

71218561

Kit CAT860: canister f. cleaner 5 l

Nr

203

Order code

71222175

Kit CAT820/860: 10 x hose connector L

Nr

210

Order code

71222209

Kit CAT820/860: pump hoses (10 pcs)

Nr

212

Order code

71222213

Kit CAT820/860: 10 x hose conn. straight

Nr

105

Order code

71218403

Kit CA8x: liquid detection CAT860

Nr

211

Order code

71222212

Kit CAT860: 10 x hose connector T

Nr

102

Order code

71218400

Kit CA8x/CAT860: wall mounting

Nr

247

Order code

71247278

Kit CAT820/860: T-sensor (1 piece)

Nr

103

Order code

71218402

Kit CA8x/CAT860: housing bottom

Nr

251

Order code

71249987

Kit CAT820/860: Compressor 230 V

Nr

259

Order code

71305964

Kit CAT820/860: weight for filter

Nr

256

Order code

71254159

Kit CYH112: quick fastener CAT8xx

Kit CYH112 chain bracket 600x40mm PVC