Ultrasonic measurement
Time-of-Flight
Prosonic FMU44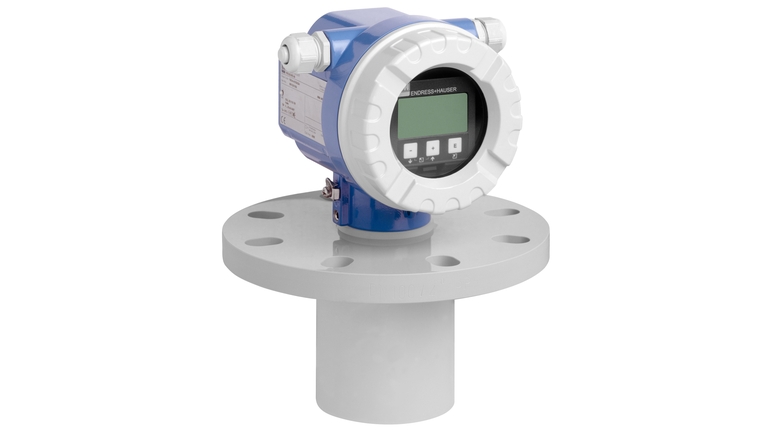 Cost effective device for sophisticated level measurement in liquids and bulk solids for up to 20m
The Prosonic FMU44 sensor is suited for non-contact level measurement in fluids, pastes, coarse bulk material and flow measurement in open channels or at weirs. The two-wire or four-wire compact transmitter can be used in applications with storage tanks, agitators, on stockpiles and conveyor belts. The envelope curve can be shown on the on-site display for simple diagnosis. Linearization function (up to 32 points) for conversion of the measured value into any unit of length, volume or flow rate.
Gyors kiválasztás
Válasszon a javasolt lehetőségek közül
Egyedi konfiguráció
Folytassa a kiválasztást az elérhető lehetőségek közül
Előnyök

Reliable non-contact measurement

Quick and simple commissioning via menu-guided on-site operation with four-line plain text display, 7 languages selectable

Envelope curves on the on-site display for simple diagnosis

Hermetically sealed and potted sensor

...
Alkalmazási terület

Two-wire or four wire instrument for continuous non-contact level and flow measurement.

Process connection: Flange

Temperature: -40 to +80°C (-40 to +176°F)

Pressure: +0.7 to +2.5bar (+10 to +36psi)

Maximum measuring distance: Liquids 20m (66ft),...
Dokumentumok / Kézikönyvek / Szoftver
Tartozékok / alkatrészek
Instrument plug M20-M12 "PA" (WDM)150

4-pin metall plug for installation in the device, providing connection to a T-Box (WDM) or cable socket (WDM). Cable length: 150mm. Not suitable for PROMAG and PROMAG.

Nr

12

Order code

535720-9020

Set of screws housing F12/T12/F23

Consists of: 1x stop screw M5x10. 1x retaining screw M8x10. Usage: FMR230/FMR231, FMR240/FMR244/FMR245, FMR250, FMU40/FMU41/FMU42/FMU43/FMU44.

Nr

65

Order code

52010526

Sealing kit FMU4x

Consists of: 1x O-ring 113.9x3.53 EPDM. 1x O-ring 72.0x3.0 EPDM. 1x O-ring 49.21x3.53 EPDM. 1x flat gasket 47x58x2 EPDM. 1x flat gasket 59x68x2.5 EPDM. 2x O-ring 17.0x2.0 EPDM. Usage: FMU40/FMU41/FMU42/ FMU43/FMU44.

Nr

20

Order code

517391-0011

Cover F12/T12 Alu, coated, gasket

Material: aluminium, coated. O-ring EPDM. Usage: FMR230/FMR231, FMR240/FMR244/FMR245, FMR250, FMU40/FMU41/FMU42/FMU43/FMU44.

Nr

20

Order code

52005936

Cover F12/T12 Alu, window, gasket

Material: aluminium. Usage: VU331, housing F12/T12, Micropilot M/S, Prosonic M, Levelflex M.

Nr

11

Order code

52006026

Cover terminal compartment F12/F23

Hood terminal compartment. Usage: Micropilot M, Prosonic M, Levelflex M.

Nr

11

Order code

52019062

Cover terminal compartment F12/F23,FHX40

Hood terminal compartment. Usage: separate display, Micropilot M, Prosonic M, Levelflex M.

O-ring 113.9x3.63 EPDM, 5 pieces

Usage: cover T12/F12/F23.

Nr

35

Order code

52006197

Terminal module 4-pole, HART, 2-wire

Cable connection. Usage: housing F12/F23, Micropilot M, Levelflex M, Prosonic M.

Nr

35

Order code

52012156

Terminal module 4-pole, PA, FF

PROFIBUS PA, FOUNDATION Fieldbus. Usage: Micropilot II/M, Prosonic M, Levelflex M.

Nr

35

Order code

52013304

Power supply 10.5-32VDC (housing F12)

Usage: electronics 4-wire, Levelflex M, Prosonic M.

Nr

35

Order code

52013305

Power supply 90-250VAC (F12), Ex only

Usage: electronics 4-wire, Levelflex M (Non-Ex and Ex), Prosonic M (Ex only).

Nr

35

Order code

52015585

Power supply CSA, 10.5-32VDC (housg F12)

Usage: electronics 4-wire, Levelflex M, Prosonic M.

Nr

35

Order code

52015586

Power supply CSA, 90-250VAC (housg F12)

Usage: electronics 4-wire, Levelflex M, Prosonic M.

Nr

35

Order code

52018949

Terminal mod. 4-pol.,EEx ia,HART,T12,OVP

4-pole, 2-wire. OVP = overvoltage protection. Usage: housing T12, Levelflex M, Prosonic M, Micropilot M.

Nr

35

Order code

52018950

Terminal mod. 2-p.,EEx ia,PA/FF,T12,OVP

2-pole, 2-wire. PROFIBUS PA, FOUNDATION Fieldbus. OVP = overvoltage protection. Usage: housing T12, Levelflex M, Prosonic M, Micropilot M.

Nr

35

Order code

71396869

Power supply 90-250VAC (F12) v2, Non-Ex

Power supply, HART, version 2. Only for "non ex area". Usage: FMU40/FMU41/FMU42/FMU43/FMU44.

Nr

30

Order code

71025600

Electronics FMU4x, Ex, 2-wire, HART,v4.0

4-20mA, version 4.0. Usage: FMU40/FMU41/FMU42/FMU43/FMU44.

Nr

30

Order code

71025602

Electronics FMU4x, Ex, 4-wire, HART,v4.0

4-20mA, version 4.0. Usage: FMU40/FMU41/FMU42/FMU43/FMU44.

Nr

30

Order code

71025603

Electronics FMU4x, Ex, PA, v4.0

PROFIBUS PA, version 4.0. Usage: FMU40/FMU41/FMU42/FMU43/FMU44.

Nr

30

Order code

71025604

Electronics FMU4x, Ex, FF, v4.0

FOUNDATION Fieldbus, version 4.0. Usage: FMU40/FMU41/FMU42/FMU43/FMU44.

Nr

40

Order code

52026443

Display VU331, version 2

Alphanumeric display, 4-line. Usage: FMR530/532/533, FMR540, FMU40/41/42/43/44.

Display FHX40

Remote display + local operation. 4-line LC-display. :: Menu driven plain text operation. :: Easy setup. :: User language selectable. :: Envelope curve display on site. Usage: FMG60, FMU40/FMU41/FMU42/FMU43/FMU44.

Nr

50

Order code

71037028

Sensor FMU44, gasket

Usage: FMU44.

Mounting bracket FAU20

Material: 316Ti. Usage: mounting FMU42/FMU43/FMU44.

Cable FHX40, 5m

Connection cable, doubled shielded. Usage: FHX40.

Cable FHX40, 10m

Connection cable, doubled shielded. Usage: FHX40.

Cable FHX40, 30m

Connection cable, doubled shielded. Usage: FHX40.

ToF Adapter FXA291

Usage: connection Micropilot M, Micropilot S, Levelflex M, Prosonic M, Tank Side Monitor, Deltabar S, Cerabar S, Gammapilot M, Micropilot I, to Commubox FXA291.

Adapterk. FMR2xx,FMx4x,PMx7x,FMD7x,FMG60

Connection service tool RS232(52013675)/ ToF adapter FXA291 (71007843). Usage: FMG60, FMD77/FMD78, FMR230/ FMR231, FMR240/FMR244/FMR245, FMR250, FMU40/FMU41/FMU42/FMU43/FMU44, NRF590, PMC71, PMD75, PMP71/PMP75.

Mounting bracket FHX40 1" / 2" pipe

Usage: FHX40.

Protective cover for housing T12/F12, SS

Usage: Micropilot M, Micropilot S, Prosonic M, Levelflex M. Material: 316Ti.

Mounting bracket FAU 20_316TI