Boiler operation optimized and lifespan extended
Precise measuring and monitoring optimize boiler performance and protection for efficient operations
Boiler operation optimization is a key focus for utilities managers seeking production efficiencies. Steam remains a vital power source for industrial process heating, yet energy costs are spiraling. Competitive pressures make downtime and maintenance ever more costly, and so protecting boiler equipment and control systems is essential. With accurate and reliable measurement and monitoring fuel consumption can be optimized and boiler lifespan prolonged, unlocking considerable cost savings.
How we can help
Endress+Hauser combines a broad instrumentation, service, and solutions portfolio with a profound understanding of energy and utility management to enable utilities managers to optimize boiler performance while protecting the fundamental integrity of equipment. Whether in ensuring the essential quality and supply of feedwater, evaluating flue gas, or determining the accuracy of measurement results we enable efficiencies to be gained and maintenance costs optimized.
Rely on class-leading measurement technology, quality, and reliability

Improve boiler house and plant efficiency whilst protecting safety

Optimize maintenance with direct access to in-house expertise

Comply with environmental protection and energy management standards
Learn where to measure for a more efficient process
Steam application parameters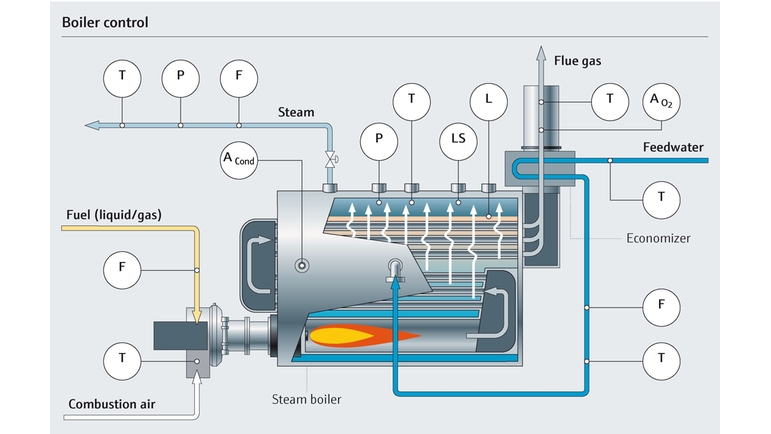 Előnyök
A deep understanding of your business and industry requirements lies at the heart of our product and service offering. You can rely on us to support you for improved steam boiler plant design, maintenance and operational productivity. We believe in serving before earning and this has been a principle that has shaped our company to this day.
24/ 7

Operational safety throughout the entire life cycle of the steam system

10 million

devices installed worldwide

$73,000

annual cost savings after the installation of a control system that reduces the blowdown rate from 8% to 6%
Hatékonyság

Steam consumption optimized for efficiency and safety

The boiler house is where you burn the money. Steam consumption is where you waste it! Endress+Hauser is your reliable partner to help you accurately measure steam consumption and boost efficiency.

Olvassa el a teljes történetet

Hatékonyság

Steam distribution closely monitored for process efficiency

To solve your daily challenges Endress+Hauser offers a complete portfolio of measurement and monitoring solutions to improve the availability and efficiency of your steam distribution system.

Olvassa el a teljes történetet

Hatékonyság

Utility management and energy optimization

Water, converted into steam by heating, is the lifeblood of a plant. To ensure efficiency and safety, the integrity of the boiler equipment and the reliability of its control system are crucial.

Olvassa el a teljes történetet