Előnyök egy pillanat alatt
The panel offers the complete solution for reliable and accurate monitoring of drinking water treatment and distribution. It comprises sensors for pH, conductivity, turbidity and free chlorine as well as the transmitter and assembly. The clever design of the assembly ensures smooth measurements of all 4 parameters with as little water consumption as possible. The panel is equipped with standardized fittings and process connections simplyfying process integration.

Easy planning

The bundle comprises all necessary components for comprehensive monitoring your drinking water. You can be sure to select the right measuring technology for your plant.

Fast commissioning

The Memosens sensors for pH, conductivity, turbidity and free chlorine are factory-calibrated. Simply connect them to the Liquiline transmitter via true plug and play and start measuring.

Reliable measurement at low water consumption

The design of the integrated assembly minimizes the amount of water consumed while the intergrated flow monitoring ensures that your measurement is always operational.

Perfectly suited to all disinfection steps

With the Memosens CCS51D free chlorine sensor included, the bundle is perfectly suited to all water treatment steps that involve disinfection such as pretreatment, conditioning and disinfection or distribution.
Csomag részletei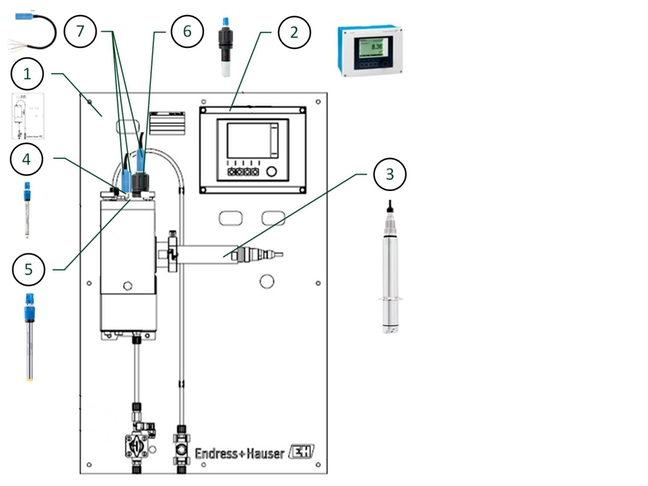 Alkatrészek és előkonfigurációk
Az alkatrészek egymással való kompatibilitásának biztosítása érdekében bizonyos rögzítések szükségesek. A nyitott paraméterek az egyéni konfigurálás szabadságát biztosítják.

Az alkatrészek a kosárban található csomagon belül konfigurálhatók

1

Technical Special Product Analysis CSOL

Mérendő közeggel érintkező részek (műanyag)

2

4-channel transmitter
Liquiline CM444

CM444-AAM4 _ _ FG _ _ _ _

2x digitális bemenet, 2x digitális kimenet

3

Turbidity sensor
Turbimax CUS52D

Technológiai csatlakozás:

Egybeépített kábel, lengő huzalok

4

Digital pH sensor
Memosens CPS11E

1-12 pH, -15...80oC, 0,8...17 bar (abs)

5

Digital 4-electrode conductivity sensor
Memosens CLS82E

6

Digital free chlorine sensor
Memosens CCS51D

7

Digital measuring cable
CYK10