Nitrogen & phosphate control system
Liquiline Control CDC81
Efficiency improvements and cost savings for wastewater treatment plants
Liquiline Control CDC81 is the solution for reliable and safe outlet values combined with energy and cost savings in your wastewater treatment plant. It provides dynamic, load-based control of the biological treatment and of the precipitant pumps during phosphate elimination. Liquiline Control can control multiple biological stages at the same time and enables seamless and quick integration into your existing environment thanks to digital bus and remote technologies.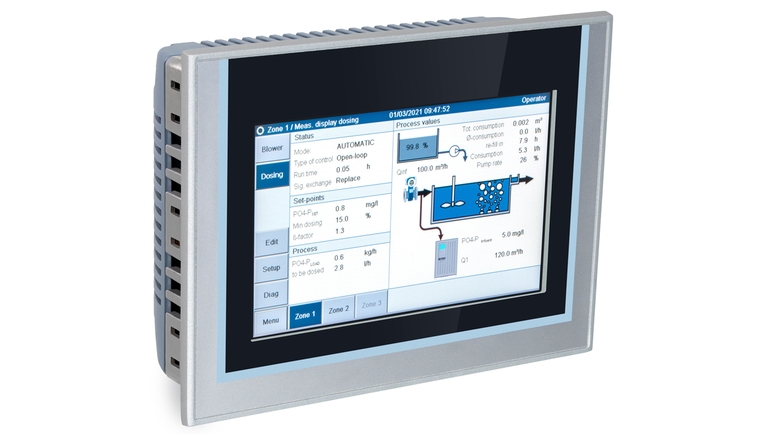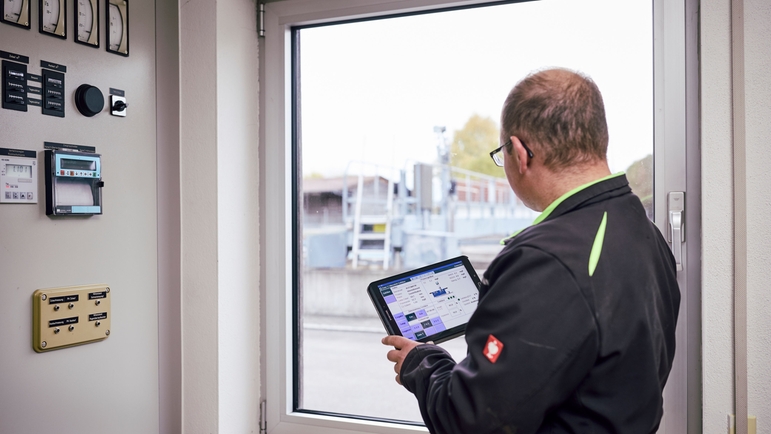 Efficient and reliable nutrient decomposition
An active controller detects the rate of change of the nitrification process, thus determining the direct behavior of the biology in intermittent phases. The system dynamically adjusts the oxygen set point with respect to the nutrient concentration. Simply put: high load equals high oxygen setpoint and low load equals low oxygen setpoint. In the case of continuously driving blowers, a feed-forward control strategy is used: this compensates for swift load changes via predictive preparation.
Load-dependent, chemical phosphate elimination
The Liquiline Control uses continuous flow rate and phosphate measurement to control your dosing pump and to ensure efficient phosphate elimination. It can thus quickly adjust precipitant dosing in the case of changing loads or flow rates. This ensures the most efficient phosphate conversion, which means that you use less precipitant and therefore reduce cost. In addition, optimized precipitant dosing prevents increased salting of the biology and increasing volumes of sludge.
Process reliability and control
Thanks to continuous measured value and signal validation, Liquiline Control guarantees stable plant operation and reliable plant discharge. Should a measured value or even a blower fail, the system switches the affected control loops into a corresponding safety condition and sends error or warning messages. The original plant operation settings can be restored at any time via selector switch. Even after installation, plant personnel have full control of the process at all times.

Easy integration into existing plants
Liquiline Control is designed as a modular, expandable system with architecture primarily based on a programmable logic controller (PLC) and individual signal interfaces. Available as a stand-alone solution or decentralized in various housing configurations, this flexibility allows for quick and easy integration into existing process control systems, as well as incorporation of existing instrumentation.
Easy-to-use remote access
Using fieldbus technology, Liquiline Control retransmits all remote measurement data to a central point such as your control room. This enables you easy monitoring of the processes and adjustment of the control. Furthermore, process monitoring via secure VPN is particularly quick and simple. This allows your treatment plant staff to manage the measured values and parameters regardless of location and weather conditions.
Liquiline Control - features
Oxygen control with automatic load detection and concentration adjustment

Simultaneous monitoring of multiple biological stages

Validation of measured values and sensor signals

Local, self-contained control unit or integration into existing PCS

Continuous or intermittent operation of the biological stage including from base load to peak load

Predictive control strategies for attenuating load spikes

Flush load for long denitrification phases

Chemical phosphate elimination

Remote access
Liquiline Control - measuring technology
Oxygen measurement

Ammonium and nitrate measurement

Phosphate measurement

Flow measurement
Liquiline Control - services
Commissioning

Optimization during operation

Application trainings

Remote maintenance
Alkalmazás

Egyszerű termékek

Könnyen kiválasztható, telepíthető és kezelhető
Műszaki kiválóság
Egyszerűség
Alaptermékek

Megbízható, robusztus és kevés karbantartást igényel
Műszaki kiválóság
Egyszerűség
Felső kategóriás termékek

Rendkívül funkcionális és kényelmes
Műszaki kiválóság
Egyszerűség
Speciális termékek

Nagy igénybevétellel járó alkalmazásokhoz tervezve
Műszaki kiválóság
Egyszerűség
FLEX választék
Műszaki kiválóság
Egyszerűség

Fundamental választék

Eleget tesz az Ön alapvető mérési igényeinek

Műszaki kiválóság

Egyszerűség

Lean választék

Könnyen kezeli az Ön alapvető folyamatait

Műszaki kiválóság

Egyszerűség

Extended választék

Innovatív technológiákkal optimalizálja az Ön folyamatait

Műszaki kiválóság

Egyszerűség

Xpert választék

Megoldás az Ön legnagyobb kihívást jelentő alkalmazásaihoz

Műszaki kiválóság

Egyszerűség
Mérési pontok
Ammonium analyzer
Liquiline System CA80AM

Liquiline System CA80AM is a colorimetric analyzer for the monitoring of water and wastewater treatment. Benefit from regulation-compliant measurement as well as low installation & maintenance effort.

Digital oxygen sensor
Oxymax COS61D

Oxymax COS61D is a high-performance, digital oxygen sensor that offers fast, accurate and drift-free measurement. It supports your process with low maintenance, high availability and easy handling.

Digital ammonium and nitrate sensor ISEmax CAS40D

The digital ISEmax CAS40D sensor with Memosens technology provides fast measurement thanks to its ion-selective measuring principle. Reduce your operating costs by real-time control of your aeration.

4-channel transmitter
Liquiline CM444

Liquiline CM444 combines best-in-class performance with clever simplicity: fast system integration, great ease-of-use and a convenient expandability save you time and money every day.
Sikertörténetek
Controlled by Liquiline Control

Liquiline Control regulates nitrification and denitrification in the Stadtlohn wastewater treatment plant. The control system ensures compliance with limit values and optimized energy usage.

Controlled by Liquiline Control

The wastewater treatment plant in Stadtlohn (Germany) regulates phosphate removal using the Liquiline Control system. The result: stable outlet values with optimized precipitant consumption.

The all-round carefree panel

Water Analysis Panels make continuous monitoring of drinking water easy at the water treatment plant in Frasnacht, Switzerland.
Kapcsolódó ajánlat
Analytical monitoring stations

From custom-made measuring cabinets and containers to fully air-conditioned measuring stations, our solutions contain all the parameters and sample preparations you need.
Water monitoring saves lives

Water is increasingly being considered a valuable product in most countries. Therefore, the acceptance for water wastage is continuously decreasing and the need to control the water quality is rising.